History
Contimach Limited
Bill Cody founds Contimach Limited in HK to develop a production base for engineering products in China.
First China office opens
First China office opened in Shijiazhuang, staffed with QC engineers to oversee production of DIN standard sprockets, gears, housings, castings and forgings for German customers. At this time, Contimach was the first company to reverse engineer the production of Taper bushes – soon to become the principle product of the early Challenge range.
DIN Standard
Contimach worked with the Dunpai chain factory in Hangzhou and converted production from Soviet standard to DIN standard. A year later, Contimach began exporting DIN standard transmission chains to Europe and USA – the first non-Soviet transmission chains to be exported from China.
Sino-Deutch Engineering
Bill Cody opens the first Sino-Deutch Engineering JV in Fuzhou
JV in USA
Contimach sets up a JV in USA to distribute power transmission products
6,000sqm distribution centre
Contimach opens 6,000sqm distribution centre in Hong Kong
Contimach Shanghai
Contimach Shanghai established to oversee production of Taper bushes. Annual output exceeds 1 million branded taper bushes to major European and American companies.
Contimach Chengdu
Contimach Chengdu founded to supply sprocket blanks and forgings for USA market.
Challenge Brand Established
Bill Cody establishes the Challenge brand as a direct route to market
Fenner PLC to acquire Contimach
Bill Cody enters talks with major UK customer Fenner PLC regarding their intent to acquire Contimach
Dongguan production facility established
Dongguan production facility established with 15,000sqm of production space, 100+ staff and an initial volume of 40 containers per month.
Sale of Contimach to Fenner PLC
Sale of Contimach to Fenner PLC finalized. Bill returns to UK.
Challenge branded taper bushes
Bill restarts production of Challenge branded taper bushes in north China with export to South Africa.
Challenge UK established
Bill Cody and Louis Hopkins establish Challenge UK in Wolverhampton as the European distribution base for the Challenge range of products.
Challenge Shijiazhuang founded
Challenge Shijiazhuang founded as a production base to control production and quality, managed by Francis Tian
Challenge UK acquires ABEC Ireland
Challenge UK acquires ABEC Ireland managed by Sean Robbins.
Challenge Zhuji founded
Challenge Zhuji founded in Zhejiang to control production of transmission chains, conveyor chains, gearboxes, belts and electric motors.
New 5,000sqm facility
Challenge UK purchases new 5,000sqm facility
Challenge Australia
Challenge Australia established in Melbourne managed by Graham Smit
Challenge Africa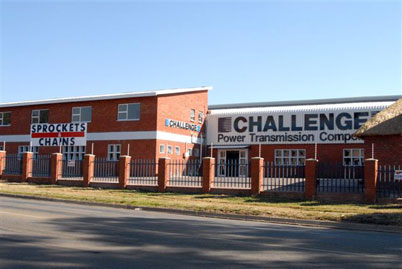 Challenge Africa established in Johannesburg managed by Rob and William Parkin
Challenge Germany
Challenge Germany established in Herborn managed by Klaus Ubber
Challenge Czech
Challenge Czech Republic established in Kromeriz managed by Robert Matysik
Challenge HK
Bill Cody moves back to Hong Kong to establish Challenge HK as the holding company for the Challenge group.
Challenge Ningbo established
Challenge Ningbo established as WOFE and Zhuji base consolidated in Ningbo
'818' production plant
Challenge Ningbo opens '818' production plant for manufacture of special conveyor chains managed by James Cody and Clive Cunliffe with technical assistance from Mike Jones of Brooks Andell Conveyor Chains