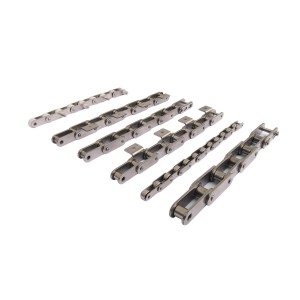 Challenge double pitch roller chains are produced to ANSI B29.3 and ANSI B29.4 standards. The dimensions of these chains are similar to standard roller chains except the pitch is doubled, resulting in typically lower drive costs thanks to the reduction in the number of components per metre.
These chains are ideal for low load, moderate speed conveyor applications, and where the drive centre distance is moderately long.
Challenge offers a multitude of options including but not limited to; stainless steel, zinc and nickel plating, integral attachments, large and small rollers, plastic rollers, IGUS bushes and many more.